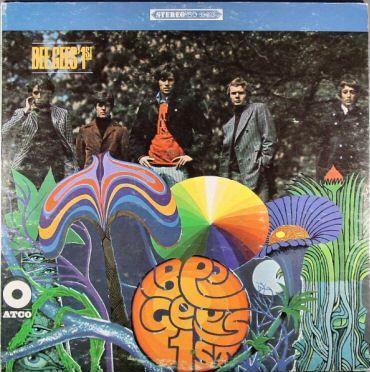 I thought I'd shake things up a bit by posting an album that has quickly become a Spring/Summer favorite of mine.
1st
, the Bee Gees' 3rd studio album, is an incredibly strong example of the band's early psychedelic songwriting and stands out as an incredible pop album.
Let's get the obvious out of the way first. The album is an unabashed response to the Beatles' Revolver, which was released one year previous.
1st
includes some rather clear comparisons (see the Bee Gees' "In My Own Time" versus the Beatles' "Taxman") as well as some more stylistic nods through instrumentation (see "Red Chair, Fade Away" and "Cucumber Castle"). Even the artwork on
1st
was designed by Klaus Voormann, who was responsible for
Revolver
's iconic cover.
This is not to say, however, that
1st
should be cast aside as some sort of inferior mimic. While all the previously mentioned songs share some resemblances to a certain famous foursome, are all fantastic songs on their own accord. At the time of its initial release, the album yielded three top 20 U.S. singles ("To Love Somebody", "New York Mining Disaster 1941" and the fantastic "Holiday"). Additionally, the album does not stagger in its style, which gives it a fresh feel throughout. From the near-criminal catchiness of "I Close My Eyes" to the quirky baroque/chamber rock of "Every Christian Lion Hearted Man Will Show You" and all the others in between,
1st
is an absolutely stunning record overall, perfect for the current season.
DOWNLOAD